The Pet Industry Distributors Association would like to introduce you to the Power of D — the value distributors bring to the supply chain in the pet industry. Some feel that consolidation at the distributor level has reduced the Power of D. Don't be fooled. Though distributors are fewer in number than in years past, the volume of products and dollars flowing through the channel is greater than ever. Here's a reminder of how manufacturing companies benefit from the Power of D.
Sales and the Power of D
The true strength of the Power of D is in customer relationships. Without exception, retailer relationships are the biggest asset a distributor brings to the supply chain. Getting your products to one distributor exposes them to hundreds or even thousands of retail stores that might not otherwise see them.
Distributors have weekly contact with their customers. They build relationships that would be both difficult and very expensive for manufacturers to duplicate. They provide a level of service that is more focused than the manufacturer can provide. Because of their closer relationships, they have a better understanding of retail stores' needs.
Inventory and the Power of D
In addition to sales relationships, distributors add value by managing inventory. For manufacturers, that value manifests itself in terms of fewer shipments in larger quantities.
Containing costs through consolidation is at the core of the distributor's existence. It's much more cost efficient for a manufacturer to send a distributor five pallets of freight than to send 500 boxes to 500 different retailers.
Cash Flow and the Power of D
Credit and collections factor into this equation as well. Because distributors shoulder this responsibility for retailers, manufacturers do not need the personnel, systems and equipment necessary to provide and track credit for thousands of businesses. Fewer, more reliable accounts means reduced risk associated with financing receivables, while collecting on them sooner. Sharing the costs of inventory and distribution provides opportunities to control overhead and capital investment.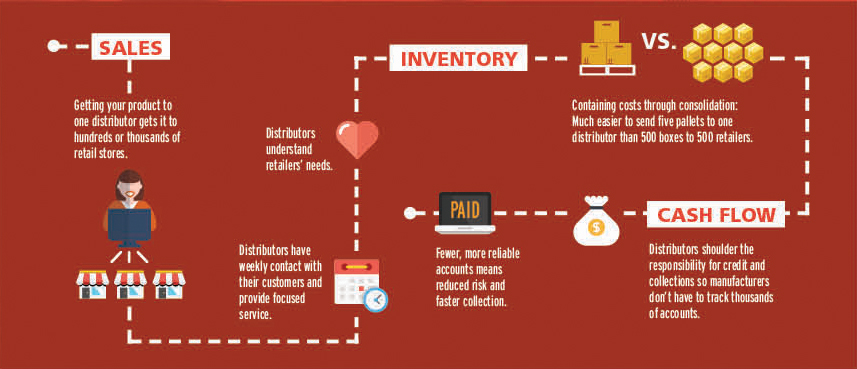 Click on image above to enlarge.
Retailers and the Power of D
A discussion of the Power of D is not complete without mentioning what it means to retailers. Distributors must justify their existence on both sides of the supply chain. Their services to retailers provide manufacturers with healthy retail organizations able to effectively move products to the consumer.
For retailers, the Power of D includes:
Inventory Management. Retailers can order quantities they can turn rather than ordering a six-month supply because of manufacturers' minimums. This makes running lean and profitably a reality. Faster inventory turns lower buying costs and free up cash. The distributor can do a better job of maintaining fill rates. They have products in stock close to the store.
One-Stop-Shopping. The average distributor stocks more than 12,000 skus from more than 200 manufacturers. Retailers don't have to spend time searching for products or ordering from dozens of different sources.
Storage Costs. Retailers don't have to pay rent on space that is not generating revenue for them. Just-In-Time delivery gets them product when they need it so there's no need for warehousing.
Market Information. Distributors are in constant touch with market activities, trends and prices. They can offer advice on management issues and keep retailers apprised of industry news.
Merchandising. Distributors bring in point-of-purchase materials to help retailers maximize sales and efficiently use space in their stores.
Beyond the services is the bond between distributors and retailers. Retailers know that their success means success for the distributor. There is a level of trust that comes from years of working together to ensure success. Hear directly from retailers as they share what distributors bring to the table in terms of In-Store, Logistics, Promotional and Educational Support.
You Can't Avoid the Cost
You can avoid the distributor, but you can't avoid the cost of distribution. From the manufacturer's standpoint, you can prepare to deal with small, fragmented shipments as well as collection problems and transactional costs. But can you be in thousands of retail locations, keep them stocked and get them product when they need it? Can you serve as consultant and confidante on a broad spectrum of industry issues? Can you duplicate the bond that distributors and retailers share from years of mutually beneficial relationships?
In the end, distributors can do all of these things more efficiently and more economically. That's the Power of D. Put it to work for you.