When it comes to sales and marketing, the Power of D is relationships. Retail relationships – perhaps thousands of them – are what a distributor brings to the table. Relationships between manufacturers and distributors make the difference between products moving through the channel and collecting dust on warehouse shelves.
What D Is Not
The best place to start with the Power of D in the marketing arena is with what it is not. The Power of D is not a replacement for a manufacturer's marketing program. It is an enhancement. Distributors rely on manufacturers to create awareness at the retail level and to provide tools and training to help retailers.
There was a time when distributors could pioneer new products but, with 12,000 skus and excessive product duplication, those days are gone. Even the best distributor sales representatives don't have time to put every new product in front of their customers. Focused brand representation and support from the manufacturer is a healthy, necessary component of the distributor's sales effort. This includes marketing to dealers and even consumers. Advertising, sales aids, product samples, effective packaging and displays, trade show participation, brochures and, of course, personal interaction, all help distributors sell.
Always remember that the sale is not complete until the consumer purchases the product. Selling a product to a distributor is not the end of the transaction.
The Distributor Contribution
Without exception, distributors point to their customer relationships as the biggest asset they bring to the supply chain. When you get your products to one distributor, those products can go to hundreds or even thousands of retail stores that might not otherwise see them.
Whether by phone or in person, distributor sales representatives have weekly contact with their customers. They build relationships that would be both difficult and very expensive for manufacturers to duplicate.
Distributors provide a level of service to the dealer network that is more focused and targeted than manufacturers can provide. They have closer relationships with the retailers and better understand their needs.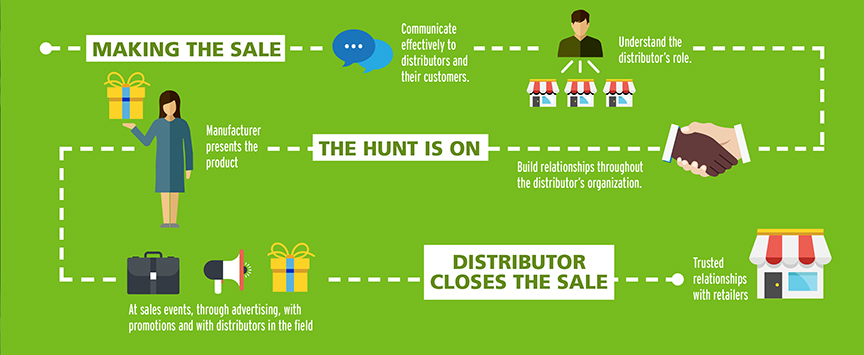 Click on image above to enlarge.
Making the Sale
In addition to the assets mentioned above, distributors and manufacturers both come to the trading table armed with sales forces. Aligning these forces to complement one another rather than duplicate efforts is the key to an effective relationship.
Distributors identify three keys to building effective sales relationships. The first is to communicate effectively both to distributors and their customers. Next, effective sales people understand the distributor's role in the distribution channel and their challenges. Finally successful sales representatives build relationships throughout a distributor's organization.
The Hunt Is On
A successful distributor/manufacturer sales relationship can be likened to that of a hunter and guide. The two create a plan in advance in which the manufacturer "presents the shot" and the distributor closes the sale. Distributors have established relationships with their customers that go beyond sales. Retailers know that a distributor is concerned about the longevity of their business and will only present programs and products that are in the retailer's best interest.
Distributors offer several opportunities for manufacturers to present their shot. They host sales events, publish newsletters and hold promotions. Each offers manufacturers a chance to pull products through by educating retailers about their specific values and differences. This kind of communication and support helps distributors create competitive, profitable retailers with consumer appeal.
Additionally, distributor and manufacturer sales representatives can work together in the field. Both may visit key retail accounts or a manufacturer visit may be followed up by a call from a distributor's inside sales representative.
As long as manufacturers approach the sales relationship as a partnership, distributors encourage contact with their customers. Most strive for an open business structure so distributor, manufacturer and retailer can focus on getting products into the hands of the consumers in a way that everyone shares in the success.
Build Relationships
Distributors like working with sales representatives who relate to people on all levels of their organization. Manufacturers should work with distributors' buyers on promotion, planning, product selection, sku deletion and gross margin/return-on-investment decisions. They should work with inside and outside sales representatives to increase sales for retailers. Manufacturers also work with the operations team. The best reps get to know people in returns very well. They help solve problems, get parts and manage returns.
Follow-up
Finally, to build an effective partnership with distributors, deliver what you promise. Distributors work hard to satisfy their customers. They expect the same effort from their vendors.
Consistent coverage, good follow-up and a knowledge of the distributor's market and their dealers make for good sales reps. This helps put the Power of D to work for you.